"Your Community Connection"
Cariboo Radio Photo Contest

Send us your favorite photos from all over the Cariboo Chilcotin for a chance to win $250! It doesn't matter what you take your pictures on, just snap away! You never know, you could win! All photos submitted will become the property of Cariboo Radio and will be displayed on our social media sites and elsewhere. Draw Date March. 31st, 2018 Good Luck Everyone!
"Like" Rustic Elements Flowers and Gifts Facebook page and their Free Flowers Friday's post for a chance to Win! If you're chosen as the monthly winner, you'll be taking a beautiful bouquet of flowers home every Friday for a month! Rustic Elements Flowers and Gifts in the Cariboo Mall 100 Mile House. "Where a little flower goes a long way"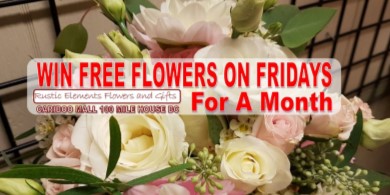 Be a Cariboo Radio Road Warrior help keep Cariboo Radio up to date on our Cariboo Chilcotin Highways & Roads. Text or call us at 250-706-9611 to report an M.V.I. or a road closure, single lane traffic anywhere on our Cariboo Chilcotin Roads. Severe Weather and Cariboo Road Conditions and anything that will affect traffic and travelling through the Cariboo Chilcotin and you could win a $50 Tim Hortons Card!
Thank You for being a Cariboo Radio Road Warrior!