Expect Delays
Planned Bridge maintenance planned for this evening in Quesnel on Hwy 97 between Nelson St and Legion Dr. Starting Tue April 16th at 5:00 until Wednesday morning Apr 17th at 3:00:AM. Single lane alternating traffic, expect delays. Quesnel River Bridge expect 20 mins delays.
Maintenance on Hwy 97 between Chasm Rd and Old Cariboo Hwy with single lane alternating traffic. Expected delays of 5 minutes. Please watch for signage and flagging personnel.
Sweeping on Hwy 97 between Old School House Rd and Horsefly-Likely Rd for 0.9 km (150 Mile House). Until Tue Apr 16 at 3:00 PM PDT. Shoulder closed. Watch for traffic control.
Sweeping crew on the Likely Rd.between Big Lake Rd and Quesnel Forks Rd for 45 kms
Also sweeping on Hwy 97 between Stormy Rd and Mirage Lake Rd 11 kms north of 100 Mile House to 9 km north of 70 Mile House until Thu April 18th
Go to www.drivebc.ca for updated information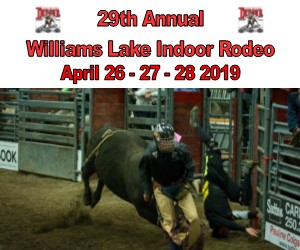 Williams Lake – Williams Lake Indoor Rodeo
April 26th, 27th & 28th
Rodeo Office is Open at the Cariboo Memorial Complex
An annual three-day rodeo with 225+ competitors, top of the line stock, and great entertainment.
Friday Cowboy Carnival 9-11am in the main arena
Friday Rodeo at 6pm. Saturday and Sunday Rodeos 1pm
Featuring the Wild West Riders and Williams Lake Stampede Royalty, Opening Act
Wild Horse Race
BC Cowboy Hall of Fame inductee presentations on Sunday
South Broadway Liquor Beverage Garden: Friday, Saturday and Sunday
Friday night entertainment in the South Broadway Liquor Beverage Garden 9 PM until 1 AM with $5 cover charge
The Barn Dance takes place on Saturday, April 27 from9 PM until 1 AM. Music by local band, 'One in the Chamber'. Tickets $20 no minors.
For more information go on line to
www.wlindoorrodeo.com

www.sunriseford.ca #sunriseFORD1